TOUR EDGE HOT LAUNCH 3 DRIVER – The greatest shake up in the driver market for 2018
Client picking up his new HL3 from Tour Edge, and we noticed that his attack angle was a little steep which deprived him of a "FEW YARDS".
He wasn't too disappointed though as he still saw an improvement of 27 yards over his previous brand driver which was bought off the shelf from a store.
With a bit of instruction, we showed the customer the potential in his new driver from hitting -3 DEGREES NEGATIVE to 3 DEGREES POSITIVE.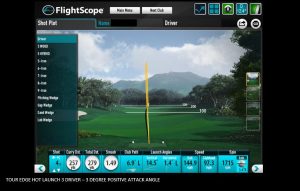 A potential increase of just over 40 YARDS!!
Wasn't the brand you were expecting?  Was it?
If your driver is giving you trouble and you want the correct combination of DISTANCE, CONTROL and FORGIVENESS, you have to give the TOUR EDGE HL3 a go. #distance_domination #spinkiller #touredgegolf #exotics
HL3 DRIVER – MORE BANG for your BUCK.  Contact Master Clubmaker Peter J Doyle at Precision Fit Golf, Newtown Golf Range, Tramore for more details on the superb HL3.
WE FIT WE BUILD YOU PERFORM